HAPPY NEW YEAR! 
I hope you had a great holiday season.  I'm excited for 2018 and Spring!
Thinking about joining It Works?
What better time that when you can get fit & get paid?
I can tell you from my experience this is the best time of the year to join!  People are all about getting ready for Spring Break, getting rid of all that excess weight they put on over the holidays, or maybe just ready to feel better.  I hate winter and am a bit of a hibernator.  I don't like to be cold at all!  But…  sitting in the house makes me literally hurt all over.  I'm ready for Spring!
I joined in February in 2012.  Every promotion I have ever earned was earned right after the first quarter!  People are ready for a change.  It may be physical or even financially.  People are in debt after Christmas so they are wanting to make a little extra income.
Well what are you waiting for!?
If you enroll as an Independent Distributor in the month of January, you will be able to join our new What The Fit Movement for $99 AND get the $49 FIT5 Pack for FREE!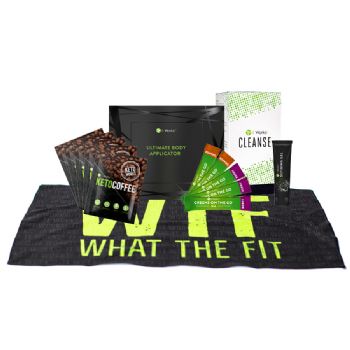 FIT5
---
Contains:
1 single pouch Ultimate Body Applicator™ (1 Application)
1 tube Mini Defining Gel™ (0.5 fl. oz.)
5 It Works! Keto Coffee™ single serving packets (15.5g each)
1 box It Works! Cleanse® (4 bottles)
5 Greens on the Go™ single serving packets (3 Berry and 2 Orange – 4g each)
1 FREE! WTF towel
What is the WTFit Movement you ask?
We have started a online accountability group that comes with a FREE APP for anyone who wants to get FIT in the new year!!
You'll have access to an amazing online community of like minded – wanna get fit – people, daily workouts, healthy recipes, and rewards for hitting your fitness goals and the best part is, it's completely, 100% FREE to join!!!
FREE workouts!
FREE recipes!
FREE health tips!
Want more info?
If you have any questions, drop me an email at Tracy@HealthyHappyAndDebtFree.com